Designer Mediterranean Chateau
in the Hollywood Hills!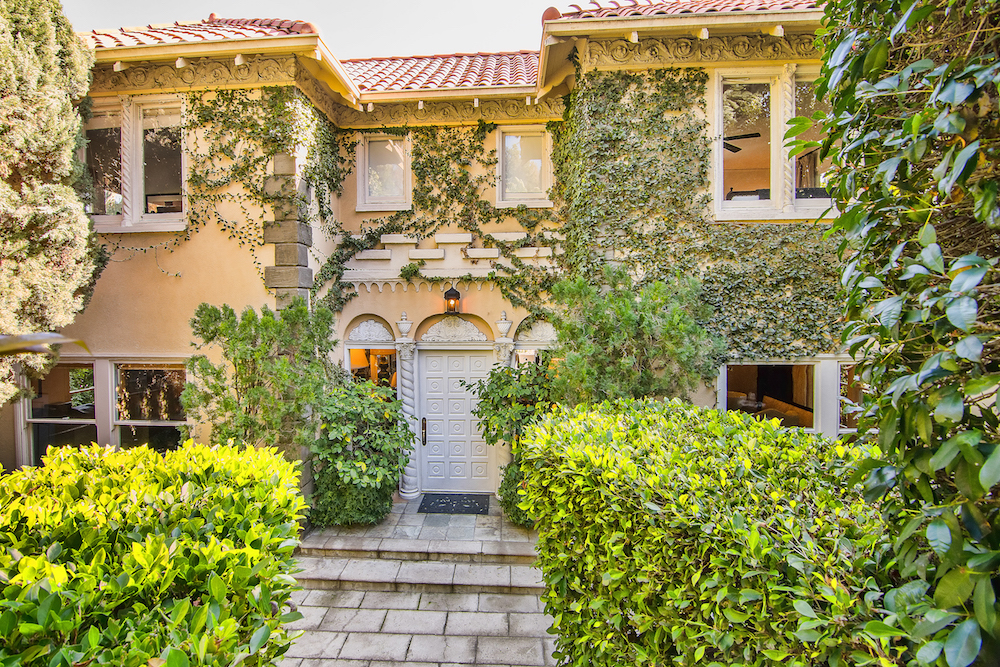 May 19th, 20th & 21st
2022 Whitley Avenue
Los Angeles, CA 90068
9am – 3pm
1923 Mediterranean Chateau in the Hollywood Hills!
Our fabulous sale is located in Whitley Heights, the old Hollywood neighborhood where Rudolph Valentino, Carole Lombard and Judy Garland once lived.  This awe-inspiring 1923 Mediterranean home is exquisitely decorated, featuring a wonderful blend of traditional old world European character and chic Hollywood style.
The collection is characterized by robust silhouettes and distinctive finishes.  The overall clean and sophisticated look is timeless and appealing to a variety of tastes with contemporary lines mixed with traditional design elements.
There is a wonderful flow throughout the home.  The rooms are seamlessly unified with fine quality, hand-finished furnishings, a serene neutral palette, accented by sparkling crystal chandeliers, silver accessories and expressive abstract nudes by the famed Greg Lauren that bring a depth and mood to the space.
This elegant yet relaxed interior showcases a beautiful mix of periods and styles.  With a balance between masculine and feminine, formal and informal there is a perfect play of contrast with lighter creamy upholstery and rich wood finishes.
As every piece makes a statement, a powerful story is told through the collection.  From deliciously rich chocolate distressed leather chesterfield sofas adorned with Fendi logo pillows and cozy fur throw to a sensational antique Syrian chest of drawers with stunning mother of pearl inlay, everywhere you look you will find treasures and unexpected finds.  Many beautiful tortoise horn pieces including a gorgeous large mirror, bedside dresser, boxes and decoratives.   Indoor and outdoor lanterns and hurricanes.   Decorative lamps, chandeliers, hide rugs, fabulous coffee table books, interesting art, armoires, desks, dressers, side tables, coffee tables, multiple bed frames, mirrors, draperies, antique decoratives, baskets, beautiful linens, stemware, china and so much more!
A beautiful antique brass and crystal chandelier illuminates the dining room while simple Italian-linen draperies temper the natural light.  A fabulous classic English style four poster bed in the master.  Chairs and sofas throughout the home with beautiful French and Italian linens.  Rich wood finishes and walnut burled veneers compliment elegant antiqued hardware.  Striped Sunbrella fabric covers vintage wicker furniture inspired by an Italian palazzo.  Outdoor plants, statues and items perfect for your garden.
This home has been divinely curated, now yours to indulge, wherein there is a softness in the lines and a strength in the scale, creating a unique atmosphere of grace, eclecticism and unparalleled taste!
Sale Includes:
MATCH Pewter China Set!
Tons and Tons of MATCH Pewter Serving Pieces and Fabulous Accessories!
Italian Pewter Serving Pieces & Accessories!
Vintage Real Zebra Hide
Zebra Ottoman w/ Nailhead Detail
Pair of Antique Turkish Hammered Brass Lamps
Sphere Wood Finial
Antique Ceramic Glazed Urn
Bamboo Asian Easels
Turkish Stone Balls
Antique Hand Carved Ebonized Scalloped Top Table
1920's French Antique Mercury Lamp with Silk Lamp Shade
Antique Asian Bronze Footed Box
Hammered Urn
Louis Arm Chair with Cow Hide Upholstery and Grommet Detail
Faceted Cow Hide Club Chair
1920's Leather Chesterfield Sofa with Mohair Cushion
Fendi Pillows
Fur Remnants
Pair of Deco style Arm Lamps
Antique Asian Side Table / Stand
Lacquered Coffee Table
Large Flemish Horn Mirror
Mosaic Cow Hide Cut Rug
Large Fur Pillows
Timothy Oulton Designed Chesterfield 3 Leather Sofa
Portuguese Mahogany Bar Cabinet Mirrored Backing, Glass Shelves & Drawers
Antique Tall Ceramic Glazed Urn
Antique Chinese Dining Table  Linen Slip Covered Sectional / Banquette
Colonial Baby Mahogny Credenza / Buffet / Bar Server
Linen Arm Chair
Hand Carved Walnut Mirror
Pair of RL Hurricanes  RL Silver Plated Tray
(2) 3 Paneled Antique Chinese Rattan Screen with Carved Detail
Antique English Crystal Chandeliers
French Maple Rough Hewn Turned Leg Dining Table
Crocodile Embossed Leather Bench
Pair of Wingback Chairs
Colonial Dining Bench
Antique English Settee
Maple Carved Floor Mirror
Antique Carved Relief Panel
French Café Barstools from France – The REAL Deal!
Daybed Sofa with Belgian Linen
Moroccan Carved Table with Glass Top
Antique Turkish Lamp with Silver Foil
Antique French Walnut Armoire
Antique Mother of Pearl Inlay Trunk
Hollywood Art Original Photographs
Antique Chandelier
Large Venetian Mirror
Small Venetian Mirror
Crystal Chandelier
Champagne Buckets
Antique Document
Antique French Armoire
Executive European Desk with Interesting Hardware
Antique Handcarved Etagere
Antique English Settee with Zebra Stenciled Cowhide
1920's French Tripod Silver Plated Side Table with Mercury Glass Top Mahogany Credenza with/ Trestle Base Fabulous Antique Wing Chair upholstered in Crocodile Embossed Leather
Occasional Chair in Crocodile Embossed Leather
Fabulous Rabbit Pillows
Vintage File Cabinet
Hand Forged Iron Birdcage Chandelier
Antique Chinese Document
Black Lacquer Boxes
Large Glazed Asian Vase
Ralph Lauren Brass Floor Lamp
Antique Brass Boxes
Antique Clock Sphere Chandelier
French Antique Brass Arm Sconces
Brass Sconces
Queen Leather Headboard Nailhead Grommet Detail
Industrial Wood Desk
Book Case
Woven Suitcases
Asian Lidded Basket
Desk Chair
Black Cow Hide  Crocodile Embossed Leather Night Stand / Side Table  Desk Lamp
Flame Burled Antique English Gentlemans Chest
Double Seated Antique Stadium Seats
Ralph Lauren Wool / Cashmere Blanket
Burled Walnut Mirror
Antique English Side Table
King Mahogany and Walnut Burls Portuguese Hand Turned Four Poster Bed
Antique Syrian Chest of Drawers with Mother of Pearl Inlay
Dark Walnut Pedestal Table
Glass Lamps
Trays
Horn Boxes
Antique English End Table with Inlay Detail
Handmade Mahogany Floor Mirror
Antique French Walnut Wardrobe
Brazilian Cow Hide
Tufted Settee with Brass Casters
Colonial Wicker Arm Chairs
Antique Coffee Table
Hand Forged Iron Table
Chaise Lounges Large
Iron Lanterns
Vintage Butcher Block
Large Planter
Farm Table
Set of 6 Wicker Arm Chairs
Antique Bench
Hand Forged Iron Side Tables
Queen Upholstered Bedframe
Queen Mattress Set
Mateo Linen Patchwork  Queen Duvet
Silk Ralph Lauren Embroidered Pillows
Antique Chinoisorie Dresser
Occasional Chair with Embroidered Detail and Crocodile Embossed Leather
Antique Dutch Colonial Mahogany Armoire
Antique Crystal Chandelier
Lots of Beautiful REAL Coral!
Double Tiered Lounging Sofa with Italian Linen
Ralph Lauren Pillows
Antique Brass Castered Real ZEBRA Coffee Table / Ottoman with Nailhead Detail
Vintage X-Base Ottoman with Zebra Upholstery
Vintage French Woven Console with Brass Trim
Moroccan Olive Jar Lamp with Custom Linen Shade
Antique Chinese Wedding Box
Horn Dresser
French Distressed Leather Club Chair made out of Lambskin
Asian Chest
Mother of Pearl Inlay Box
Antique Woven Pagoda Box
Antique Baskets
Antique British Colonial Mahogany Credenza
Pair of Rattan Chairs
Antique Carved Hutch
Stenciled Cow Hide
Zebra Mirror
Carved Mosaic Mirror
Antique Middle Eastern Ornamental Plates
Antique Tribal Plates from the Mediterranean
Antique English Settee with Belgium Linen
1930's Sculpted Framed Wing Arm Chair
Maple Turned Leg Dining Table
Antique Leather Trunk
Old Asian Box
Antique Chinese Hat Box
Cubed Ottomans
Scala Lacquered Side Table
Asian Lacquered Shelved Cabinet
Vintage Jute Rope Side Table
Turkish Urn Lamp
Mahogany Hand Carved Mirror
Antique Asian Box
Antique French Nudes
Matisse Lithographs
And much, much more!
Gorgeous sale – not to be missed!
Get notified about our upcoming sales, events, finds, treasures, trends & more…